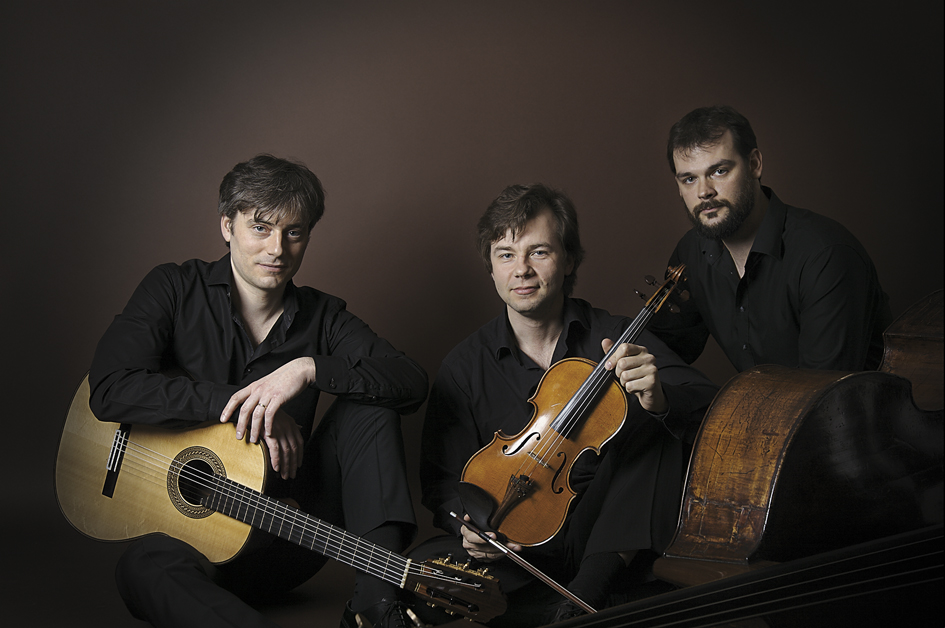 2021-06-26 19:30
Theater Altes Hallenbad e.V., Haagstrasse 26, 61169 Friedberg
Bach & Piazzolla
In 2021 the Astor Trio will celebrate the 100th birthday of its namesake Astor Piazzolla by re-establishing the connection between Bach & Piazzolla: Sonatas by Johann Sebastian Bach combined with artistic tango compositions by Astor Piazzolla can be heard. In addition, the homage "Buenos Aires Fantasie" written by guitarist Tobias Kassung especially for this anniversary year, and as a virtuoso finale "Introduction et Rondo Capriccioso" by Camille Saint-Saëns.
The three musicians of the Astor Trio succeeded in the rare feat of establishing a completely new and unusual chamber music line-up in classical music and thus delighting audiences and critics alike. In the Astor Trio, violin, guitar and double bass meet. Alexander Prushinskiy, violinist and first concertmaster of the Dortmund Philharmonic, has come together with guitarist Tobias Kassung and the solo bassist of the WDR symphony orchestra Stanislav Anischenko for this rare combination.
In 2012 their almost legendary album "Bach & Piazzolla" was released. At numerous appearances in renowned German concert series and festivals, the three exceptional musicians always left a completely enthusiastic audience and played their way into the elite of the German chamber music scene.
On their album "Gershwin & de Falla" you can also hear the finest classical chamber music, completely dusted and with a groove and a spontaneity that you would otherwise find in jazz fields. With these extraordinary programs, the Astor Trio playfully combines the styles between classical and jazz and opens up new horizons for classical music.
Program:
Johann Sebastian Bach: Sonate h-Moll BWV 1014; Astor Piazzolla: Histoire du Tango; J. S. Bach: Adagio ma non tanto; Tobias Kassung: Buenos Aires Fantasie I, op. 13; Astor Piazzolla: Adios Noniño; Camille Saint-Saëns: Introduction et Rondo Capriccioso