Current program
We are looking forward to a great chamber music year 2022 with six outstanding, internationally established ensembles from NRW. Advance booking is open for all concerts and we recommend purchasing tickets early. You can find an archive with audio and video recordings of concerts that have already taken place in our review.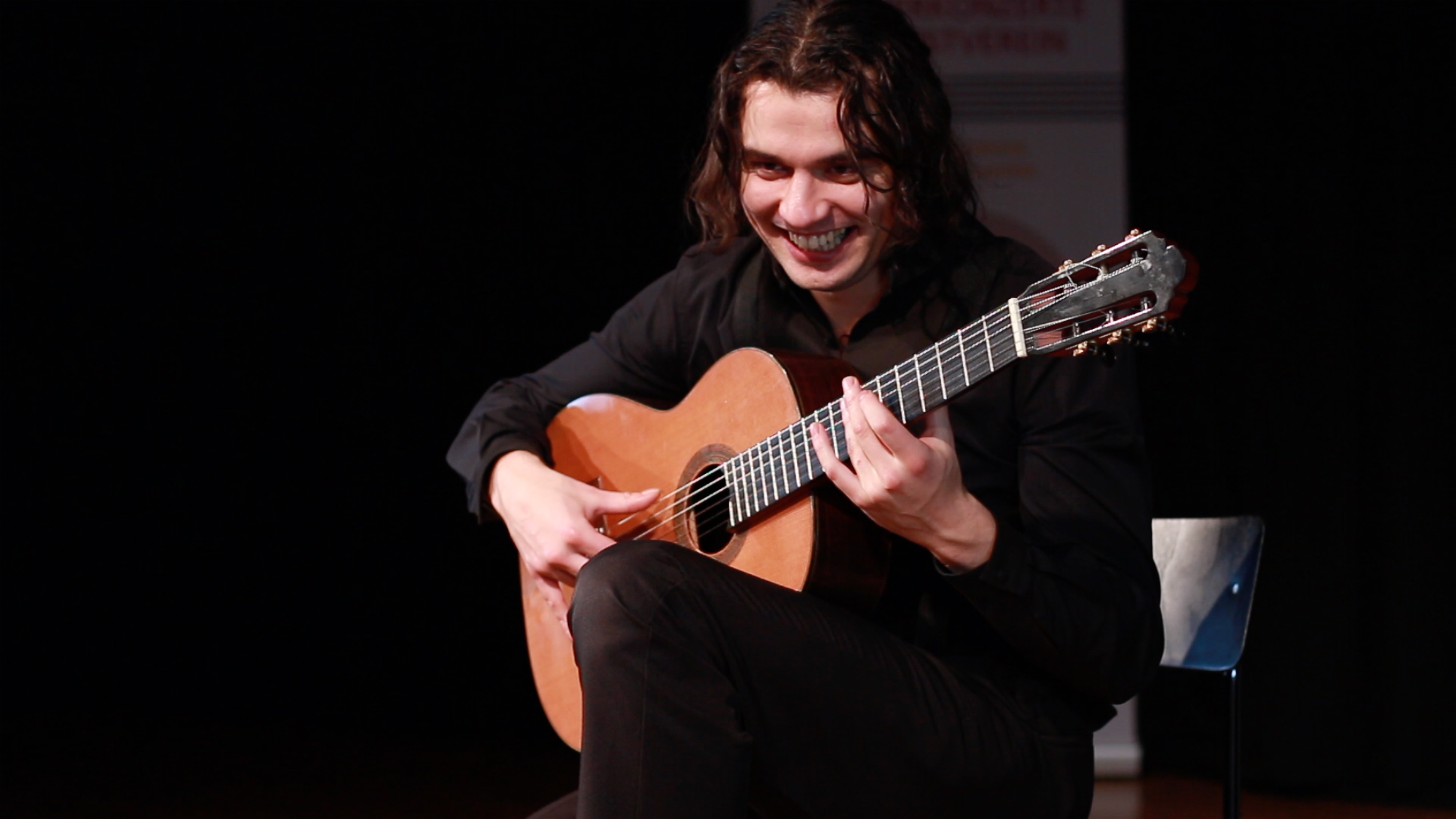 3. Chamber Concert 2022: David Dyakov
2022-06-11 18:00
Kölnischer Kunstverein, Hahnenstraße 6, 50667 Köln
Bach, Albéniz, Brahms, Piazzolla & Paganini
The Bulgarian guitarist David Dyakov, who lives in Cologne, is one of the most prominent guitarists of his generation. He combines the highest virtuosity, fine musicality and clever interpretation in such a harmonious way that is only found in very great musicians.
David Dyakov has won more than 20 international guitar competitions and performs all over the world as a celebrated soloist. With a solo evening, we now want to give him and his "niche instrument" - the classical guitar - the space they deserve at the chamber concerts.
In addition to original works by Hans Werner Henze and Niccolò Paganini, David Dyakov will present three arrangements for guitar that have become legendary: the Toccata from Bach's 6th Piano Partita and the second Intermezzo by Brahms, masterfully arranged by Hubert Käppel, as well as the highly virtuoso arrangement of Piazzolla's "Estaciones Porteñas" by the well-known Brazilian guitarist Sérgio Assad.
Program:
Isaac Albéniz (1860-1909)
Granada (Serenata) – Nr. 1 aus Suite española, op. 47
Sevilla (Sevillanas) – Nr. 3 aus Suite española, op. 47
Mallorca (Barcarola), op. 202
Asturias (Leyenda) – Nr. 5 aus Suite española, op. 47
Astor Piazzolla (1921-1992)
(Arr.: Sergio Assad)
Otoño Porteño
Invierno Porteño
- interval -
Hans Werner Henze (1926-2012)
Drei Tentos (aus "Kammermusik 1958")
#RepertoireNRW
Johann Sebastian Bach (1685-1750)
(Arr.: Hubert Käppel)
Toccata (aus der 6. Klavier-Partita, BWV 830
Johannes Brahms (1833-1897)
(Arr.: Hubert Käppel)
Intermezzo Nr. 2 e-Moll, op 117: Andante Moderato
Niccolo Paganini (1782-1840)
Grand Sonata für Gitarre A-Dur
Romance
Allegro
In December 2020 David Dyakov was supposed to perform at the chamber concerts at the Kunstverein. Unfortunately, due to the pandemic, the concert was not allowed to take place then. Instead, we made a video production and are happy to put a breathtaking "preview" for his concert in June 11, 2022 online: