Review & concert videos
In times of Covid and a months-long culture lockdown, we have expanded our review of past chamber concerts into an exciting video archive with live recordings and productions of our concerts!
As soon as you click on the detailed view of the concerts ("Information"), you will be taken to the concert program with a selection of concert videos and audio recordings. Enjoy listening and watching!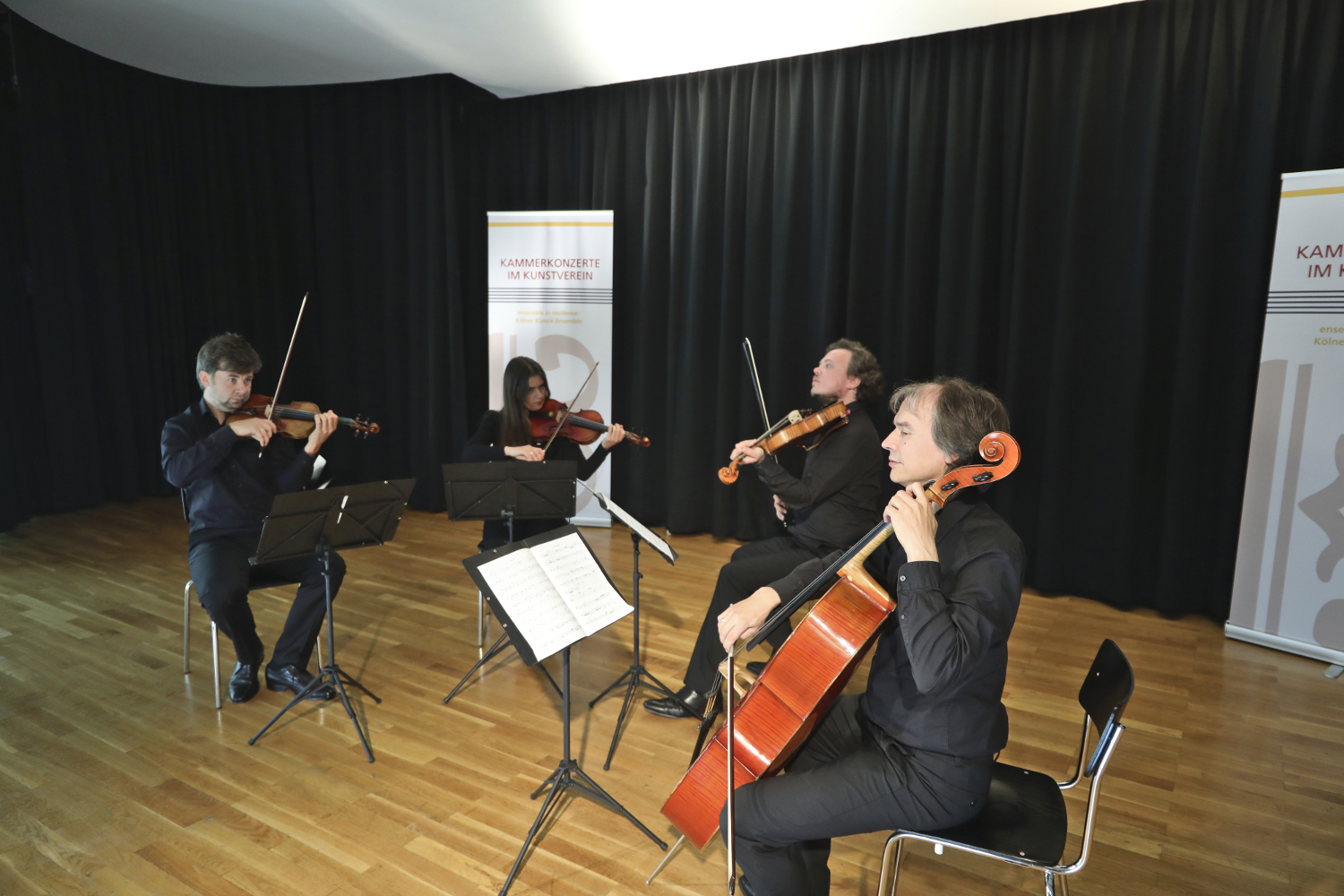 3. Chamber Concert 2021: Arisva String Quartet
2021-07-03 18:00
Kölnischer Kunstverein, Hahnenstraße 6, 50667 Köln
Mozart & Mendelssohn
The concert of the Arisva Quartet 2020 has to be canceled due to the 1st lockdown in spring. We have therefore decided to invite the quartet again with a new program in 2021.
In addition to the great chamber music works by Ludwig van Beethoven, Robert Schumann and Dmitri Schostakowitsch, one of the focal points of the quartet's musical work is on the lesser-heard works of late Romanticism and classical modernism. Here the Arisva Quartet shows its brilliant skills with interpretations of great clarity and musical depth.
The Westdeutsche Zeitung (WAZ) headlined after their concert in the Dortmund Philharmonic:
"Arisva Quartet competes with world-class ensembles - In Mendelssohn's String Quartet op. 44 one was amazed not only by the exceptionally beautiful, homogeneous sound, but also by the perfection. Nevertheless, the rapidly played corner movements sounded exciting and very exciting. To play so quick-tempered and yet accurate and tonal is an art. In doing so, the Arisva Quartet competed with world-class ensembles. "
At the chamber concerts, the Arisva Quartet combines Mendeslssohn's op. 13 - which the composer composed when he was only 18 years old - with Mozart's so-called "Hunt-Quartet" KV 458. A work that Mozart together with five other quartets dedicated to his friend Joseph Haydn.
Program:
Wolfgang Amadeus Mozart (1756-1791):
Streichquartett "Jagd-Quartett" B-Dur, KV 458 (1784)
1. Allegro vivace assai
2. Menuetto. Moderato
3. Adagio
4. Allegro assai
- interval -
Felix Mendelssohn Bartholdy (1809-1847):
String Quartet No. 2 A minor Op. 13, 1827
Adagio – Allegro vivace
1. Adagio non lento
2. Intermezzo: Allegretto con moto – Allegro di molto
3. Presto – Adagio non lento

Alexander Prushinskiy, 1st violin
Svetlana Shtraub, 2nd violin
Aliaksandr Senazhenski, viola
Risto Rajakorpi, cello (substitution for Risto Rajakorpi due to illness)