Review & concert videos
In times of Covid and a months-long culture lockdown, we have expanded our review of past chamber concerts into an exciting video archive with live recordings and productions of our concerts!
As soon as you click on the detailed view of the concerts ("Information"), you will be taken to the concert program with a selection of concert videos and audio recordings. Enjoy listening and watching!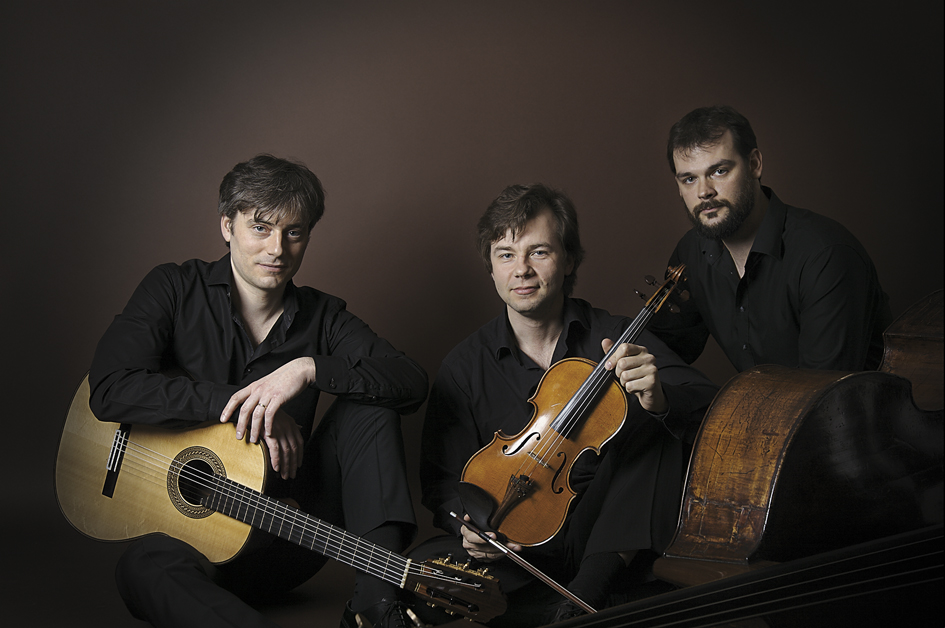 1. Chamber Concert 2022: Astor Trio
2022-02-05 18:00
Kölnischer Kunstverein, Hahnenstraße 6, 50667 Köln Information Tickets
Open concert 2022
This concert with the Astor Trio was already planned as the opening concert in 2021, but had to be cancelled due to the lockdown. Now we are looking forward to a grandiose start to the new concert year 2022 with the Astor Trio and their highly virtuoso programme with Bach, Piazzolla & Saint-Saëns.
The three musicians of the Astor Trio have succeeded in the rare feat of establishing a completely new and unusual chamber music instrumentation in classical music, thereby delighting audiences and critics alike. The Astor Trio brings together violin, guitar and double bass. Alexander Prushinskiy, violinist and first concertmaster of the Dortmund Philharmonic Orchestra, has joined forces with the guitarist Tobias Kassung and the solo bassist of the WDR Symphony Orchestra Stanislav Anischenko to form this rare combination.
Alexander Prushinskiy, Violine
Tobias Kassung, Gitarre
Stanislav Anischenko, Kontrabass
Program:
Johann Sebastian Bach (1685-1750)
(Arr.: Tobias Kassung)
Sonate h-Moll BWV 1014
1. Adagio
2. Allegro
3. Andante
4. Allegro
Astor Piazzolla (1921-1992)
"Histoire du Tango"
1. Bordel 1900
2. Café 1930
3. Nightclub 1960
- intervall -
Johann Sebastian Bach (1685-1750)
(Arr.: Tobias Kassung)
Sonate E-Dur BWV 1016
- Adagio ma non tanto -
Tobias Kassung (*1977)
Buenos Aires Fantasie I, op. 13
en mémoire d'Astor Piazzolla
#RepertoireNRW
Astor Piazzolla (1921-1992)
(Arr.: Tobias Kassung)
Adios Noniño
Camille Saint-Saëns (1835-1921)
(Arr.: Tobias Kassung)
Introduction et Rondo Capriccioso