Boccherini, Pauels & Schubert
With the Alinde Quartet, one of the outstanding and internationally established string quartets performed at the Chamber Concerts. The programme was of very special charm: Schubert's great "Rosamunde" String Quartet, Boccherini's Quartet op. 32 No. 4 and - a highlight for the Cologne audience - the String Quartet No. 1 by Heinz Pauels.
Pauels (1908-1985) was the director of drama music in Cologne after the Second World War, and his compositions - premiered by Günter Wand, among others - are of outstanding quality. Pauels' quartet made an extraordinary impression on the audience and we are pleased to be able to point a finger here at one of the whole of Cologne's great post-war composers as part of our #RepertoireNRW campaign. A particularly nice moment was the presence of Heinz Pauels' daughter, Mrs Pauels-Rahman. Seen here together with the Alinde Quartet and the youngest quartet offspring at the chamber concerts.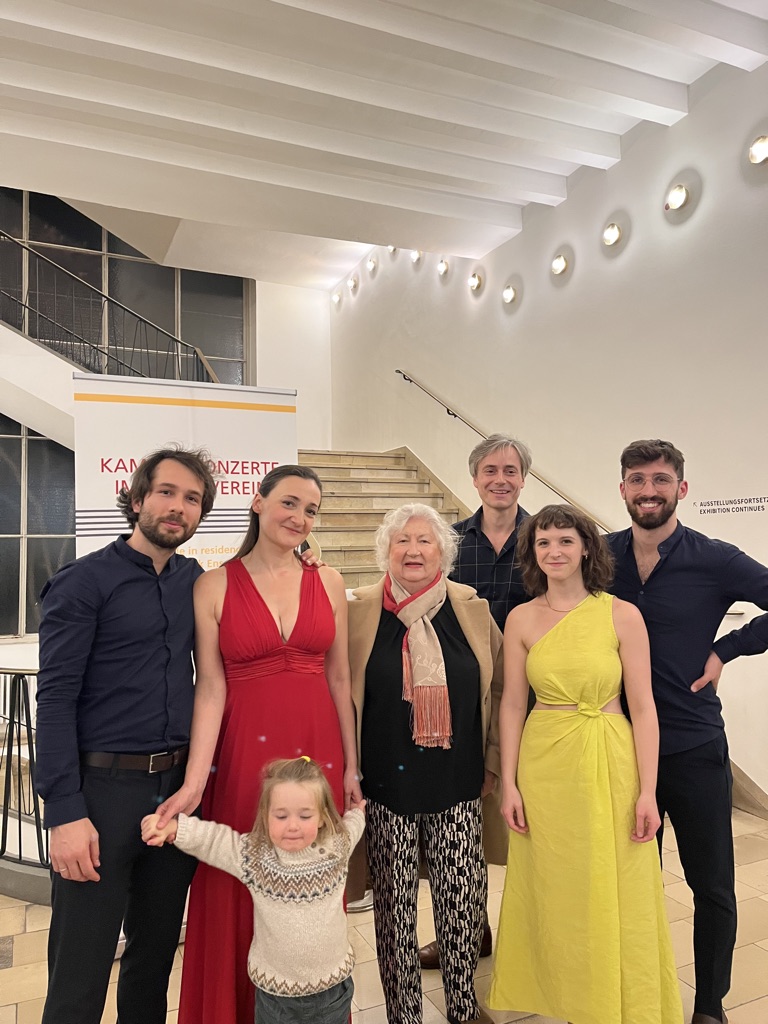 Concert recordings:
Heinz Pauels: Quartet No. 1, Op. 4
Luigi Boccherini: Quartet No. 4, Op. 32, 3rd movement Allegro con brio
Programme:
Orlando di Lasso (1532-1594)
Prophetiae Sibyllarum: Prolog

Luigi Boccherini (1743-1805)
Quartett op.32 Nr. 4
1.Allegro bizarro
2.Larghetto
3.Allegro con brio
Heinz Horst Frank Pauels (1908-1985)
Streichquartett Nr. 1, op. 4
#RepertoireNRW
- interval -

Girolamo Frescobaldi (1583-1643)
Canzon seconda a quattro sopra romanesca

Franz Schubert (1797-1828)
Streichquartett in a Moll n. 13 D 804 "Rosamunde"
1. Allegro ma non troppo
2. Andante
3. Menuetto. Allegretto
4. Allegro moderato
The Alinde Quartet from Cologne has become a permanent fixture among the outstanding, established string quartets. Trained by Professor Günter Pichler (Alban Berg Quartet) at the Escuela Superior de Musica Reina Sofia in Madrid and Eberhard Feltz at the Hanns Eisler Academy of Music in Berlin, among others, the Alinde Quartet now performs at renowned festivals such as the Verbier Festival, Aldeburgh Residencies, Chamber Music European Meetings in Bordeaux and the Mozartfest Würzburg. In summer 2018, it was part of the Chamber Music Residency at the Aix-en-Provence Festival. It was also a guest at the Konzerthaus Berlin, the WDR Funkhaus Cologne and the Kölner Philharmonie. For Hänssler Classic, the four musicians will record all of Franz Schubert's string quartets in an 8-year project until 2028.
Musicians:
Eugenia Ottaviano, violin
Guglielmo Dandolo Marchesi, violin
Erin Kirby, viola
Bartolomeo Dandolo Marchesi, violoncello
Detailed information on the ensemble:
https://www.alindequartett.com/